| Home | More e-Books |
Now You Can Blindly Copy Your Way To Success!
Yes! I want to discover how to become an Internet Marketing Success in 30 days, so that I can start my own profitable online business, even if I donít have a product, website programming knowledge and Iím up to my eyeballs in debt!. Please give me immediate online access to 30 Days To Internet Marketing Success. Since I'm responding on , also send me my free bonuses:
ē 30 Days To Online Marketing Success Volume #2 - All 630 pages of Vol 2 ALREADY AVAILABLE for immediate download in the member's area. You get TWICE the money making power with Volume #2! ($97 Value)
I understand that this offer has a 30-day ironclad money-back guarantee. I have 30 days to review 30 Days To Internet Marketing Success and if it does not deliver what it promised, I can return it for a prompt and courteous refund. In any case, bonuses is mine to keep, free. I also understand that my credit card will be charged $97.
Here's what Mark Joyner, Author of No #1
Best Seller Mind Control Marketing says:

"Joe Kumar has done a wonderful service for the Internet by releasing this book. This is exactly what everyone starting out needs. If you are starting from rock bottom and want to make an income online, this book is *exactly* what you need.
This should be the first book you buy. Study it and put it into action immediately. It may, in all sincerity, be one of the most important choices you ever make."
Mark Joyner
#1 Best-Selling Author, MindControlMarketing.com
Click On The Order Button Now to be a Success in 30 Days!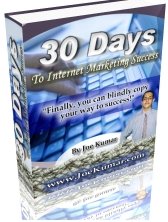 Purchase By Credit Card Online.

------------------------------------------------------------
Other Payment Options:
Option 1: Click Here For Fax Ordering.
Option 2: Click Here For Phone Ordering.
Option 3: Click Here For Postal Mail Ordering.
Option 4: Click Here For Purchase Order.
------------------------------------------------------------
You are ordering from: waho-biz.com
© 2003 joekumar. all rights reserved.
Questions or Comments About This Site? Click Here!