Guide To Internet Payment Processing System....
| | |
| --- | --- |
| | Is your web site designed to make it easy for your visitors to buy? |
e-Transactions Explained
By Peter Kearney
(About The Author)
This Report reveals how you can have a user-friendly Internet order/payment system to ensure no barriers are placed in the way of your visitor pressing your "Order " button.
After reading this Report, you will understand the vital steps involved in building and operating a transactional web site.
The Report uniquely focuses on key commercial strategies of success in this complex area of e-commerce. It is written in layman's language for the business owner, marketer and web developer.
The knowledge from this Report could save you hundreds of hours of research and thousands of dollars in set-up and management costs of your e-commerce payment system.
Get fast answers to these critical e-commerce questions:
How to put your Internet payment system on autopilot?
What is a customer friendly Internet payment system?
What service providers are necessary to process Internet transactions?
Is it wise to subcontract out the whole Internet payment process?
Why is it essential to provide real time payment processing?
How to qualify for an Internet merchant account?
How to get an Internet merchant account if no banks in your country issue them?
How to sell digital products on autopilot?
What is a shopping cart and an online catalogue?
How to setup your transaction system for automated customer follow up?
How to choose a budget e-commerce system?
What will your e-commerce system cost to set-up and manage?
How to reduce loss from online credit card fraud?
Where are the most common risks in processing Internet payments?
What are the most important security issues for your customers?
Where to host your Internet payment processing?
All this knowledge for
Only $24.97
IMMEDIATE DOWNLOAD!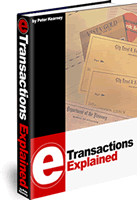 Click Here to Place Your Order
90 Day Money Back Guarantee!



P.S.
No. This is not an e-book that just tells you where to get services to accept credit card payment from your web site. This e-book distills the research of a large number of Internet payment providers, payment systems, e-commerce software packages and successful e-commerce sites. This is a Complete e-Transaction Road Map for any Small to medium business owners, managers, marketers, web entrepreneurs and web designers.