A Practical Guide To Starting An Online Business On A Beginner's Budget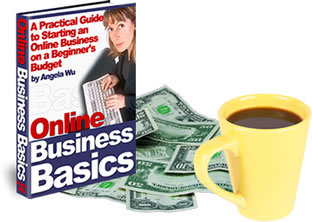 "At Last! 100% Guaranteed Way You Can Have Your Own Money-Making Online Business...
...And How You Can Get Started (And Be Channeling Cash Into Your Bank Account) Quickly, Easily, And On A Budget Virtually Anyone Can Afford"

Dear Friend,

If you could finally have your very own profitable internet business quickly, easily, and on a budget you can actually afford, would you be interested?

Now there's a way you can start a real online business that sells a real product and makes you real money.

How is this any different from the thousands of other 'get rich fast' offers?

Basically, you're not going to get any hype or 'bull stuff' thrown at you.

I'm not going to claim you'll make $1,000 a day, $15,000 a month, or anything of that sort.

I won't tell you that starting a business doesn't take work. Because it does. Anyone with a successful business that makes a lot of money has had to work toward what they've achieved. And you will, too.

But you can start making money on the internet much faster and much easier if you know exactly what to do (and what not to do).

Here's your chance to save hundreds of hours of time and energy (just imagine what you could do with that much extra time in your life). And to cut through the confusion and frustration you face starting an internet business.

Because now you can follow a blueprint that guides you, in an easy to understand way, toward your goal:
Make money (a little extra cash, or even a full time income... it's up to you) on the internet with a real business of your own.
The blueprint you'll follow is an electronic manual called "Online Business Basics" (that you can download instantly and start using what you learn to make money right away).

It's written by Angela Wu, someone who's been through everything you face now and pushed through to finally have a successful business of her own.

She knows her stuff, because she's lived it first hand. And now she wants to pass on her experience to you...so you can get where she is faster and easier than ever before.
Take a look at what you'll discover inside...
Exactly what you must do to get your business started fast, laid out in an easy to follow step-by-step format.
Make doing business on the web as worry free as possible by choosing a good company to host your web site: Find out the 14 crucial things to look for when choosing your host.
What four marketing methods you must use if you want to be successful on the internet.
How to suck visitors into your site (and turn those visitors into money in your pocket) without spending a single penny on advertising!
Save time and money. How to easily track all your advertising efforts, and interpret the data you gather to make sure your efforts pay off.
How to give you and your business an instant dose of credibility and boost profits by doing one simple thing (and it'll only take a few minutes to do).
Convert more visitors into sales. Discover the little-known secrets of persuading visitors to buy your product.
Where to find a hot product to sell if you don't want to create your own...and keep 100% of the profits!
How to start your own newsletter and how you can use it to explode your profits with only a few minutes of work!
7 ways you can increase profits and automate your business (which means less work for you) at the same time!
Get more people to buy from you. How you can accept credit cards.
Easy ways to create your own e-book, even if you don't have a clue about writing.
Increase sales (and cash flow into your bank account). 8 practical ways to test and improve your conversion rate.
You're starting to see this guide is the solution you've been looking for. And you're excited about the prospect of having your own profitable business and enjoying all the benefits that come with it.

Read what some of the customers have to say about Online Business Basics.

"Online Business Basics" will only take an investment of $37. And that's what it is, an investment. Except this investment has potential returns far greater than any stock, bond, or mutual fund.

So, you can use that money to go for a dinner...or invest it in your future and be amazed at the return you get! The right choice seems pretty obvious, doesn't it?
Test-Drive "Online Business Basics" 100% Risk-Free, And I'll Buy It Back From You If It Doesn't Deliver.
Here's the deal. I know you can get this book at an incredibly low price...even though it delivers such a big solution. But you still might be hesitant about ordering.

So to make sure there's absolutely no resistance when you place your order, I'm going to let you test-drive the package completely without risk.

Read the manual, put what you learn into action. Take 180 days to do it (of course, I'm sure you won't need nearly that long).

And if you still can't get a money-making internet business started, I'll buy everything back from you. You'll get a 100% refund of your money. No hassles. No questions asked. And we'll walk away friends.

Am I crazy to make an offer like this? I definitely don't think so. It's only fair. And I'd want things the same way if I were in you're shoes.
Don't Hesitate, Get Your Money-Making Business Started Now!

Stop struggling, trying to figure out and decipher what you have to do to make money on the internet. Stop wasting your time on things that just don't work. You now have a simple solution at your fingertips.

Order now. It's easy and 100% secure. Just click on the order link below and you'll be taken to the order page. Once your order has been placed, you'll have instant access to the download area where you can download the manual.

All this knowledge for
Only $37.00
180 Days Money Back Guarantee!


Click Here to Order
IMMEDIATE DOWNLOAD!

P.S. Take action now! Don't wait a second longer. You'll soon have access to the information and tools you need to create a profitable internet business. Imagine enjoying all the benefits of having your own business. None of that will become a reality unless you take control and order now.
Questions or Comments About This Site? Click Here!