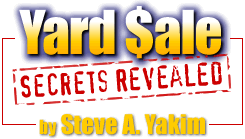 Steve Yakim has packed several careers in different professions into his life and he hasn't finished yet.
He has a Bachelor Degree in Micro Computer Network Management and is a certificated Microsoft Certified Systems Engineer. He says that is almost as much fun as when he was a professional magician, touring around the st1:country-region>U.S.A.!
He's also an ASE certified master mechanic, possibly the only one in the whole World that is also a licensed cosmetologist! Yes, he's licensed in the State of st1:State>Indiana. Steve, with his wife, owned and operated a beauty shop, mini health spa, tanning salon and a gourmet coffee shop!
He's been on the Internet since 1996 and has several Internet
businesses.
You can visit Steve's businesses at…
EZasMagic.com
Ezas123WebMarketing.com
TheAffiliateAdvantage.com
YourAdvantageHosting.com
EZ-Match-Maker.com
Of course, there could be a couple of additions to this list by the time you read it!
You can subscribe for FREE to Steve's newsletter, "The Magic Money Machine Ezine", which has over 80,000 readers. Steve's dedicated the e-zine to telling you the absolute truth about Internet Marketing with only the best tips, articles, ecourses and updates on the newest product releases, …and more!
EZasMagic.com/NewsLetter
Yard Sale Secrets Revealed
ORDER NOW!
Only $13.97
IMMEDIATE DOWNLOAD!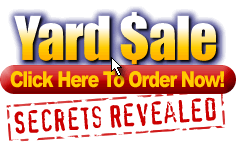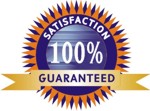 90 Days Money Back Guarantee!
P.S. Hey, that "stuff" in the garage is whispering to you. . .sell me. . .sell me. . .sell me! Grab the secrets before your next yard sale and triple those profits! Grab your copy now, while the price is still low.