Banner Buddy...
Resell Rights Included!
Use Banner Buddy To Quickly Generate Banner/Text Link HTML!
With a few mouse clicks, you can turn text and graphics into "clickable" links to your web site. HIDE affiliate links while visitors do "mouseovers". Also creates text under the banner. Easily creates text links as well.
Banner Buddy is so easy to use anyone, even beginners, will have no problem using it...

Domain Alarm...
Resale Rights Included!
Be one of the first to own/sell this BRAND NEW software!
Is Your Website Working Properly? Use Domain Alarm And Know Instantly When Your Website Is Down!
Domain Alarm sits in your system tray and immediately lets you know if your site or sites are not working properly....

eZy Java Popup Wizard...
Resale Rights Included!
eZy Java Popup Wizard makes it easy to make popups for your website... Simple Copy and Paste!
Small and compact. Extremely easy to use. Check your options, put in the link to popup and size, then generate the perfect code to copy and paste into your site!
Includes the required qtintf70.dll in case you need it on your system...

Defend Your Domain...
Resale Rights Included!
Defend Your Domain from Hackers! This e-book contains valuable information as to how to protect your source code from being read. This will prevent others from by passing your PayPal links that give immediate access to your ebooks or membership sites.
Protecting your source code is also a good idea to protect your search engine rankings. There is nothing worse then someone using your key words to beat you in the rankings.
Additional Bonuses! We have included several scripts that will be useful to you. One of which is a perl script that will turn your website into an Ebay type auction site!

Amazing WebTools...
Resale Rights Included!
12 Quality Software Products complete with "Master Resale Rights" are all contained in this one Master eBook... Complete with a turnkey website too!
With Amazing Web Tools there is Only ONE 'Master Download' eBook required to download all the files. That means there's no need to upload anything to your web host except the website files and the 'Master Download' eBook! Offer your customer Only One Small Product to offer Everything in the Package.
SPECIAL: Now with FREE customization option to the 'Master Download' eBook, Brandable with your Name and Web Site URL. Easy To do and will link to you! All Included in the Master eBook Download! This Pack Includes...
| | | |
| --- | --- | --- |
| 1. Instant Site Maker | 2. Affiliate Link Masker | 3. Instant Email Scramble |
| 4. Popup Generator | 5. Java Script Magic | 6. Instant BookMark |
| 7. Affiliate Defender | 8. Instant Meta Maker | 9. Defend Your Domain |
| 10. Popup Power | 11. Instant Site Safe | 12. Vend-O-Matic |
| Plus...Hit Exchanges Combo | Plus...Traffic Generating Script | Plus...Profitable Scripts In A Box |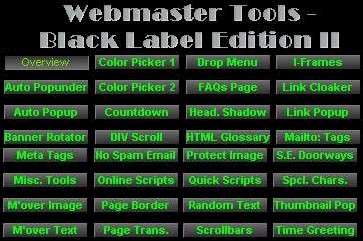 Black Label Edition II...
Resale Rights Included!
Very versatile set of tools and scripts for website owners... Over 30 useful tools and scripts here, in one convenient interface... Enhance your website and add scripts with ease!..
One of my favorites!.. I use mine constantly!..

Magic Subscriber...
Resale Rights Included!
"Easy-To-Use Software Attracts Customers, Creates Cash Flow & Generates Traffic!"
GENERATE MORE TRAFFIC & PROFIT. MagicSubscriber reduces the amount of time and money you need to get more customers and sales. It automaically captures your visitors' email addresses WITHOUT them having to fill out a form! This makes it 10x's easier for you to generate targeted traffic and sales. It only takes 2 to 5 minutes to implement -- and the payoff is HUGE.

Secret Popup Maker...
Resale Rights Included!
Allows you to open a popup on exit 6 seconds to 30 minutes after the surfer has left your site. The program allows you to choose the options you want, like toolbar, menubar,resizable window and more. You can place the popup in multiple files all at once, saving you time. Also the script auto places the code and makes the javascript file. All you need to do is run the program then upload.

Picture Perfect Image Viewer...
Resale Rights Included!
Picture Perfect is an EASY to use image viewer that won't change all your image file settings! Just pick the folder to browse and view the images. Software also comes with a slideshow feature.
Own Master Resell Rights to YOUR very own copy of "Picture Perfect". We've even hidden our company name so YOUR customers have no idea who we are. We've also included a copy of the webpage for you to sell it from!

Thumb Nail It...
Resale Rights Included!
Thumb Nail It is a simple, easy to use program to make thumbnailing of entire folders fast and easy...
Features: