12 Astonishingly Successful
Internet Marketing Pros Show
You EXACTLY How To Get
Started Online and Make It B I G!

"I'm living proof that YOU CAN succeed online.
Let me show you EXACTLY how I did it."
Everything You Ever Wanted To Know About Succeeding With Your Own Online Business - The Good, The Bad, The Money!

Can you start and build your own online business? You bet! I'm living proof that you can. My name is Diane Hughes. I started out just like everyone else. I didn't know a bit about building my own website, and I SURE didn't know anything about online business startups and operations.
I am basically self-taught with a LOT of help from top marketing and online business entrepreneurs … and TONS of reading and research!
I really get mad when I read all the hype that's online these days. You've seen it… the ones that tell you you'll make $1,000,000 in the next 48 hours with only 5 minutes of your own time. Well, I'm sorry to disappoint you, while you CAN make an amazing living online, making a million with no effort at all is simply a lie.
I've been online since 1997 and can tell you - from my own experience and that of some of the 'Net's most outstanding marketers - that it does take work. But, if you follow the path for proven success, you WILL achieve the same results (or better) that I have.

Why Should You Listen To Me?

I'll tell it to you straight. I make no outlandish (and totally false) promises of wealth and riches within your first 24 hours. I will not lead you to mistakenly believe that you'll put up your site and every single visitor that comes your way will buy. I refuse to leave you thinking that you can throw something together in a flash, paste it all over the Web and be successful. My good name is on the line!

The ONLY Answer I Could Find…
So what's the answer to the "hype" problem? To create a complete manual that can show anyone - and I mean anyone - how to build a powerful site, find the most reliable resources, choose the best products to sell and make it big online.
And what's more … to create this manual with the help of 11 of the 'Net's most astonishingly successful marketers today. In addition to my own experience, you get all THEIR inside secrets … learn from THEIR mistakes … and find out exactly how THEY got to be so powerful.
Testimonials
"Diane, I review a lot of eBooks but your Steps4Profit is a cut above the rest. It combines great original content with interesting interviews of some of the top Internet Marketers online today. You did a great job and I'm going to recommend it to all my subscribers."
David A. Eck Publisher
Predatory Marketing Ezine
http://theprofitcenter.cc
----------------------------------------------------
"You've done an excellent job with Steps4profit, Diane! It was
amazing to actually find valuable and needed information that I
haven't seen anywhere else in a marketing eBook. It's well
organized, easy to read and one that will stay right on my
desktop for easy reference!"
jl scott, ph.d.
Director of i-Cop
http://i-Cop.org

It's Like Having Your Own Personal Advisor
If you were to call me on the phone and set up a consultation with me, I'd tell you the same things I've included in this manual. I'd give you the links to the same resources that have contributed to my success. But you would not get the benefit of 11 other marketing superstars.
Steps4Profit is exactly what it says. All the steps and resources you need to build a solid online business that stands the test of time. It's like having a total of 12 Internet marketing advisors right there to guide you through each and every phase.
Here's What You'll Get:
| | |
| --- | --- |
| | 44 links to powerful resources that no Internet business owner should be without. |
| | Interviews with 11 astonishingly successful Web marketers - they give their best-kept secrets, their successes and their failures! |
| | The straight-shooting insider tips & tricks that launched the careers of Marlon Sanders, Chayden Bates, Terry Dean, Rick Beneteau, Harmony Major and 6 other powerful Internet forces. |
| | THE #1 mistake almost ALL new online businesspeople make - and how to avoid it. |
| | My own, personal "9-Step Formula" For Website Success. |
| | Specific details on how to choose the best product to sell online. |
| | The one thing to avoid like the plague when building your Website. |
| | A special resource for getting domain names for half their usual cost. |
| | The 3 things you MUST have in a Web host. |
| | Vital information about copywriting that can make or break your business. |
| | 5 elements of your site that build online trust and increase sales. |
| | A complete, step-by-step outline of how to choose the best - and most affordable - online payment option for you. |
| | 8 proven ways to promote your site that bring about consistent sales. |
| | A simple and easy-to-use method for reducing your ad costs by as much as 66%. |
| | The how to's of protecting & safely delivering your products online so you don't get robbed! |
| | Virtually unknown resources for finding valuable content for ebooks without writing it yourself. |
| | … and way too much more to list here! |
Testimonials
"Diane, I read through Steps4Profit and can tell that it's obvious you worked hard to bring forth the best information possible. It's clear that you've research this topic in-depth, and much, if not all of the details you reveal are brought together from your own experience.
Better yet, there are many ideas and concepts that you just don't see anywhere else. Such as how to create information products without creating them yourself. That was great, and very detailed.
All in all, I wouldn't suggest that you change one bit of this report,
as in my eyes, it's top notch."
Chayden Bates
www.marketingeffect.com
----------------------------------------------------
"This is a great ebook. I really enjoyed reading it. Many people will profit from this one!"
Allen Says
www.internetwarriors.com

"I'm Just Starting Out - I Don't Have A Lot Of Money"
Well, that's OK, because Steps4Profit doesn't cost a lot of money. "How's that?" you say? How can a manual filled with so much valuable information be affordable, too? Simple! I was where you are at one point. I know first hand how difficult and scary the decision to go into business for yourself can be. This is just my way of giving back a little of what others gave to me.
And besides keeping the price affordable, I'm going to throw in - absolutely FREE-of-charge, 2 outstanding bonuses you simply must have.
Super Bonus #1 - Webmaster's Profit Pack ($97.00 Value)!
Instantly OWN the Master Resale Rights to the Hottest Brand-new Software Collection on the Web! Over 50 brand new "must-have" software programs in one amazing package! You will absolutely love using these profitable, time-saving new software tools! But we are also giving you the master resale rights to them all... So you can offer this huge, new software collection to others, using a copy of this website... and YOU keep all the money! And because customers download the software themselves, your costs per sale are zero! So you keep the full 100% of every sale! And you won't find a better profit margin than that! What you are getting is a ready-made 100% Profit 'Software Business' which others charge hundreds of dollars for... See More Details
Super Bonus #2 - Immediate Money Immediately ($29.00 Value)!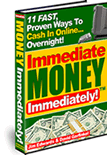 I Finally... Here's What You REALLY Need To Make FAST CASH on the Internet! You get the 11 basic, proven techniques... key information about how to systematize these techniques... three keys to increasing your profits without even getting any more traffic or spending an additional dime on anything... and, the 10 butt-kicking "Compound Interest" techniques. All in all, 128 pages of from-the-field, hard-core, nitty-gritty information that can make you a lot of extra money... right away!... See More Details

Now, granted, a book of this quality - *should* sell for much more than I'm charging. But because I want to keep Steps4Profit affordable for everyone, I've reduced the price to an incredibly low $47.
This is an introductory price and it won't last long. I'm only guaranteeing the availability of this price for a short time, so it's best if you order yours today. It's completely risk free!
Testimonials
"Congratulations, Diane on a superb ebook. If it had been available when I started out on the Internet I would certainly have avoided all of the pitfalls I encountered on the road to success.
My message to all Newbies - If you want the best Step By Step guide to starting your own successful Internet business, then grab a copy of Steps4Profit today - Before Diane realizes just how much valuable information she is virtually 'giving away' and starts charging what it's really worth. The 'start and build your own
online business' secrets Diane reveals really are priceless!"
Ricky Allen
www.infobooks4u.com
----------------------------------------------------
"You've done an excellent job with Steps4profit, Diane! It was
amazing to actually find valuable and needed information that I
haven't seen anywhere else in a marketing eBook. It's well
organized, easy to read and one that will stay right on my
desktop for easy reference!"
jl scott, ph.d.
Director of i-Cop
www.i-Cop.org
100% - No Questions Asked - Money Back Guarantee
I know you're watching every penny. I know you don't have money to waste on shoddy products that don't do what they say. That's why I'm making you this promise:
90 Day , No Questions Asked
100% RISK FREE Money Back Guarantee!
Read it - all of it. Use the resources included and put them into practice. Then, if after 90 days, your site isn't up and running AND making money, I'll refund your purchase! No questions asked, no hoops to jump through, no funny business. Either you're happy or you get your money back. Period. No hassles, no hard feelings.
All this knowledge for
Only $47.00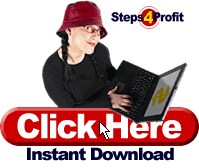 ---
Please Note: The Steps4Profit E-Book is in .EXE
format, viewable on PCs only - Sorry, no Macs.
---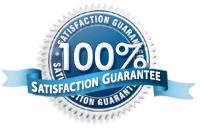 Your personal and payment information are 100% safe at HNB Resources. We have taken extra measures to ensure that we are the ONLY ones who see the information you provide. Online payments are processed immediately so you get your book and bonuses within minutes. You can start planning your profitable future right away!
Procrastination is the #1 killer of dreams! What are you waiting for? Get the information you need now to start and grow your own successful and long-term Internet business today.

P.S. Remember this offer is only guaranteed for a limited time.
P.S.S. Since you are a small business owner, this is a 100% tax deductible business expense. Just save your receipt and write the whole thing off!

Questions or Comments About This Site? Click Here!